23 November 2023
Police Processes for Recording Honour-Based Violence and Abuse
Webinar, Thursday 22 Nov, 14:30-15:30
Join the webinar: MS Team link
Professor Geetanjali Gangoli and Dr Nikki D'Souza present findings from their N8 PRP Small Grant, Organisational Processes for Data Recording of Honour Based Abuse, Forced Marriages and Female Genital Mutilation, which aimed to improve identification and recording of HBVA.
Join the webinar: MS Team link
27 November 2023
NRiPN Excellence in Policing Research: Creating Real-World Impact with Policing Research
Webinar, Monday 27 Nov, 15:00-16:00
Join the webinar: MS Team link
The webinar will be a panel discussion with people who have a wealth of experience in police-academic partnerships. At the event, we will discuss the practical aspects of how policing studies can make a tangible difference in the real world.
Panel
Rob Braddock, Senior Research Officer, Research, Analysis and Knowledge Sharing, College of Policing
Dr Xavier L'Hoiry, Senior Lecturer in Criminology and Social Policy, the University of Sheffield
Professor Geoff Pearson, the University of Manchester in Law
To join the webinar: MS Team link
1-2 July 2024
N8 PRP Drugs Policing Conference: Policing Markets, Policing People
University of Manchester, Tuesday 2 July, 09:00-16:00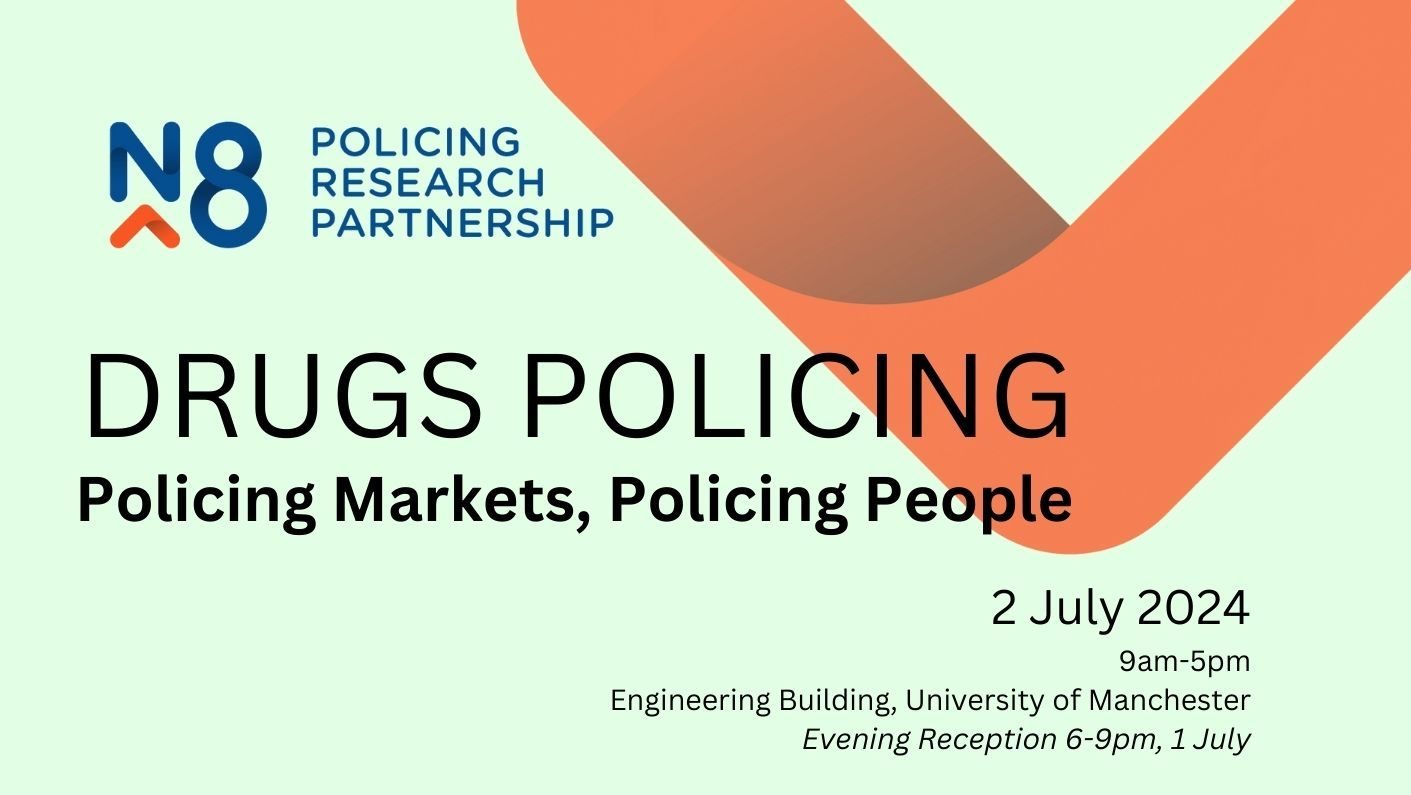 N8PRP presents an international, interdisciplinary knowledge exchange conference bringing together cutting-edge research, innovative and diverse voices to set the agenda for the future of drugs policing. 
The conference will include panels on county lines and vulnerabilities, diversion, decriminalisation, and harm reduction approaches. The audience will be made up of academics, police practitioners, policy makers, and other key stakeholders.
There will be additional opportunities for postgraduate and early career researchers, with a networking event on Monday 1 July and an invitation to submit to the NRiPN poster exhibition which will be displayed at the conference.
All Delegates are invited to join the Evening Reception on Monday 1 July, from 6pm, which will open the conference.
We're currently planning more events – to stay informed, ask your N8 PRP lead to include you in updates, follow us on twitter @n8prp, or watch this space!