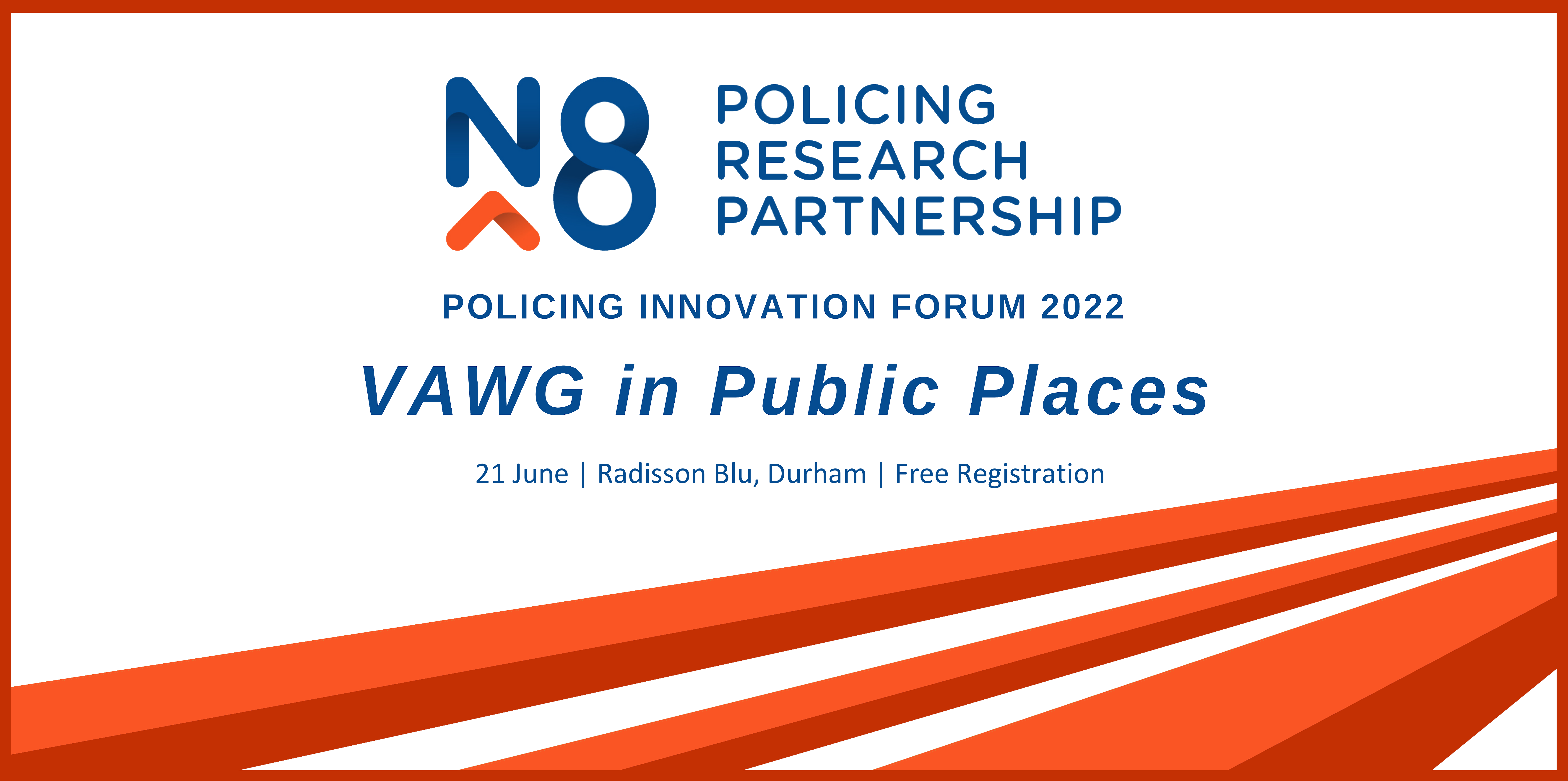 The N8 PRP Policing Innovation Forum 2022
VAWG in Public Places 
21 June | Radisson Blu, Durham | Free Registration
How do we think about the harms of harassment, what does justice look like, and how should police respond? How are practitioners and researchers innovating?
With major campaigns, influential research, and innovative projects, the 2022 N8 PRP Policing Innovation Forum is an opportunity for researchers, police, and other stakeholders to share knowledge and experience, increase understanding of current thought and practice, and find opportunities for collaboration.
Featuring
Dr Fiona Vera-Gray (The Right Amount of Panic)
Dr Bianca Fileborn (#MeToo and the politics of social change and Reclaiming the Night-time Economy);
Behind the Scenes of Anti-Street Harassment Campaigns – panel discussion with Enough – That Guy – Is This Okay? 
Risky Places – A New Interventions Showcase – group discussion with leads of innovative projects including Safer Parks for Women and Girls and Safer Transport Northumbria
ECR poster exhibition
***CALL FOR PROJECTS***
Risky Places – A New Interventions Showcase
Spaces are available for projects on schools, online, the night time economy, and events. Please contact Jo Cassidy (Joanne.Cassidy@merseyside.police.uk) with a brief description of the project (c.50 words) and key details (title, organisations involved, funder, start and completion date) by Thursday 10 June by 4pm.
***CALL FOR POSTERS***
ECR* Poster Exhibition
To present your poster, please contact Eon Kim (eon.kim@manchester.ac.uk) with your name, affiliated organisation, and a brief overview of your poste by Thursday 10 June by 4pm. Exhibitors can request assistance with transport and printing costs. Posters should be submitted in size A0 (1189mm x 841mm).
*ECR as per the AHRC definition.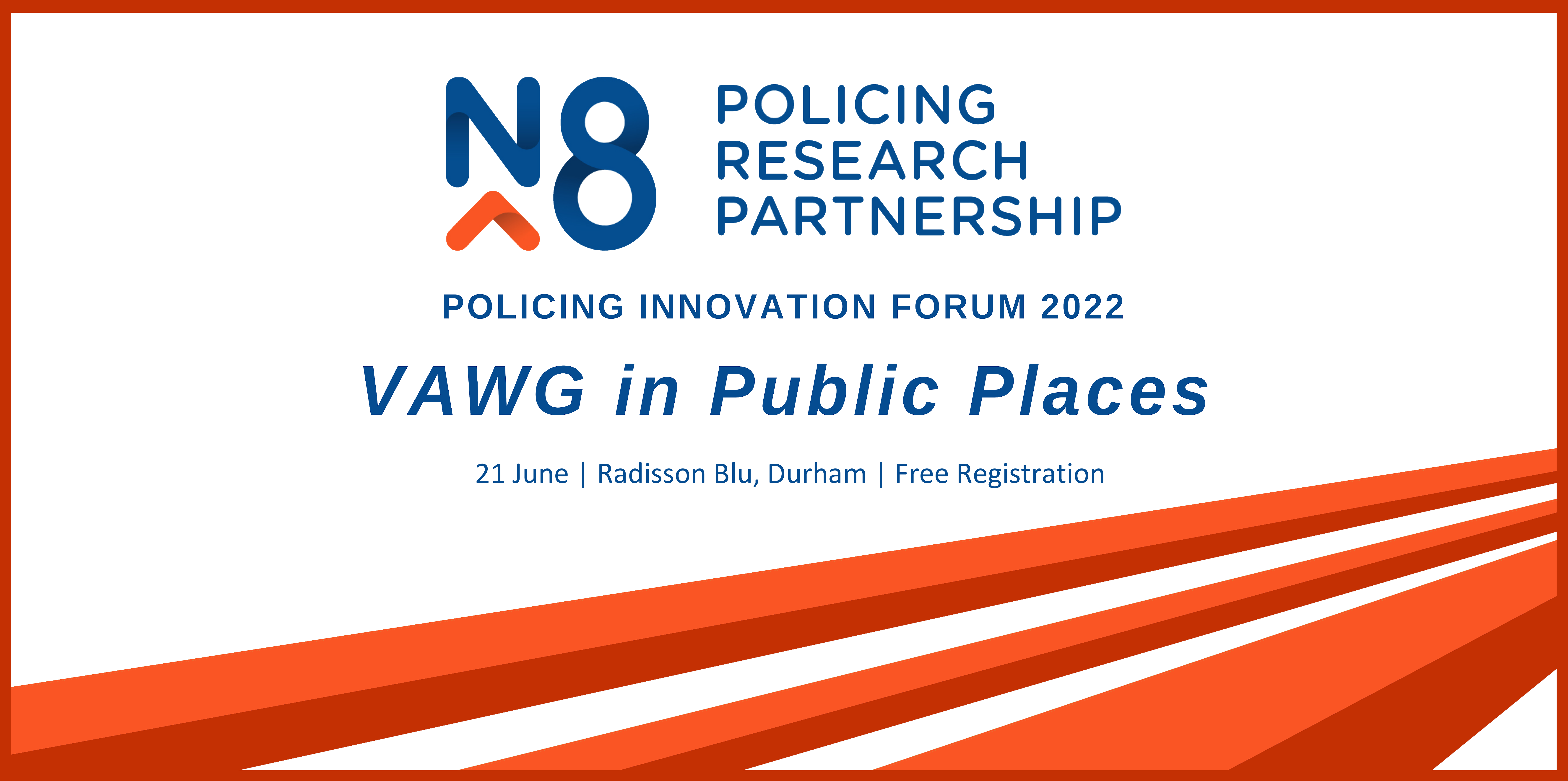 Webinar: Intimate Partner Violence During Covid-19
Tuesday 8 March, 14:00-15:00
Dr Hayley Alderson, University of Newcastle, discusses the findings of her N8 PRP Small Grant on the experience of IPV during Covid-19.
About this event
Covid-19 lockdowns exacerbated the risks of Parental Intimate Partner Violence and Abuse (IPVA), just as it precipitated rapid changes in the delivery of social support services.
There is an urgent need to understand how victims/survivors and perpetrators have experienced the multi-agency response during the pandemic, and what this can tell us about making services accessible and effective.
In collaboration with Durham Constabulary, 3 NHS Trusts and Gateshead Local Authority, Dr Hayley Alderson interviewed 22 victims and perpetrators of IPVA about their experience of relevant services during the pandemic.
In this webinar, Dr Alderson will present her findings and discuss what this means for the design and delivery of support in the future.
Read the four-page report of the research, with key findings: PROTECT Covid-19: Intimate Partner Violence.
The event will be relevant to practitioners and researchers in social work, social policy, policing, and domestic violence.
Webinar: Police Demand During Covid-19
Thursday 24 March, 15:00-16:00
Dr Réka Solymosi and team discuss the findings of their N8 PRP Small Grant and what it means for police resources and planning.
About this event
Covid-19 lockdowns created unprecedented challenges for policing, both by creating new responsibilities and dramatic changes in demand. However, analysis so far has been simplistic, leading to incorrect and misleading results.
Using a robust time-series analysis and qualitative interviews with Cheshire Constabulary call centre staff, Dr Solymosi and a research team from Manchester, UCL, the UK Data Service and Cheshire Constabulary have produced the first in-depth look at how demands on police changed during and after lockdown.
The team will present their findings and methodology, discuss the results – expected and unexpected – and consider what this means for police planning and resources.
Read the four-page report of the research, with key findings: Understanding Changing Demand for Police during Covid-19 
This event will be of interest to police, police researchers, social scientists, criminologists, data scientists, and local government.
Policing Innovation Forum
The Policing Innovation Forum brings together key academics, police, and other stakeholders together to discuss contemporary challenges in policing and look to develop innovative, practical, and evidence-based solutions.